Hello everyone - I hope the Christmas season has treated you all well! I received driving lessons (I'm 25 - it's about time I learned!!), some nice pyjamas and a Jane Austen-themed day to day planner! I can't wait until I actually have some social events to pencil into said planner! I have such a weakness for Austen.. In fact, over this very holiday season I watched the
BBC Pride and Prejudice adaptaton
twice and demolished many chocolates while doing so!;)
My holidays haven't been completely un-Plath related however. One of my dear school friends hosts what is becoming an annual Poetry Ceilidh at her home over the break. A ceilidh is an Irish word, for a social gathering, where people sit up late and drink and tell stories, say poems, play music and generally have fun! This year I decided to step up and say a poem. So many people, when I tell them I'm doing study on Sylvia Plath, make some kind of joke about it being depressing work - when in reality, it could not be further from the truth! So I prefaced the poem I chose to read with this sentiment and then launched into 'Wintering'.
This is the easy time, there is nothing doing.
I have whirled the midwife's extractor,
I have my honey,
Six jars of it,
Six cat's eyes in the wine cellar,
Wintering in a dark without window
At the heart of the house
Next to the last tenant's rancid jam
and the bottles of empty glitters ----
Sir So-and-so's gin.
This is the room I have never been in
This is the room I could never breathe in.
The black bunched in there like a bat,
No light
But the torch and its faint
Chinese yellow on appalling objects ----
Black asininity. Decay.
Possession.
It is they who own me.
Neither cruel nor indifferent,
Only ignorant.
This is the time of hanging on for the bees--the bees
So slow I hardly know them,
Filing like soldiers
To the syrup tin
To make up for the honey I've taken.
Tate and Lyle keeps them going,
The refined snow.
It is Tate and Lyle they live on, instead of flowers.
They take it. The cold sets in.
Now they ball in a mass,
Black
Mind against all that white.
The smile of the snow is white.
It spreads itself out, a mile-long body of Meissen,
Into which, on warm days,
They can only carry their dead.
The bees are all women,
Maids and the long royal lady.
They have got rid of the men,
The blunt, clumsy stumblers, the boors.
Winter is for women ----
The woman, still at her knitting,
At the cradle of Spanis walnut,
Her body a bulb in the cold and too dumb to think.
Will the hive survive, will the gladiolas
Succeed in banking their fires
To enter another year?
What will they taste of, the Christmas roses?
The bees are flying. They taste the spring.
I chose this poem in particular because I think it is a beautiful and optimistic poem. Everyone at the ceilidh seemed to really enjoy it too. The issues discussed in this poem are so far removed from the general perception of Sylvia Plath. I think people are especially suprised when she drops in 'Tate and Lyle' - which adds a really modern twist to the poem. It definitely cements it in the modern world, where convenience products like jars of honey exist!
For me personally, it really is one of my favourite poems. The visual imagery when Plath details the basement where the honey is stored - in between the old jams and gin. The poem takes us on such a journey, from the bottom of the basement - under the house, to, at the end - the bees off flying in the sky: the beautiful, fresh spring. I think, especially after such a cold winter, the sentiment Plath expresses in the penultimate stanza was very welcomed as well!
Incidentally, my school friend who organised the night is also a poet in her own right. Her website is
Catherine Brogan.com
and I would urge you all to check it out! Catherine is a performance poet/slam poet whose work talks mainly about issues arising from living/growing up in Ireland. A lot of people would argue that this kind of poetry is very different from that of Sylvia Plath. But I am reminded of the Al Alvarez quote about Plath where he said that she told him she was reading out the poems that would become 'Ariel' aloud as she wrote them. Sylvia said she had never done that with her previous poems, but as she evolved as a writer; how the poems were articulated became a very important element for her. So perhaps the two kinds of poetry are not as different as one would think!
In other news, I received a great email from a Susan McMichael regarding the Christmas card I posted in my last blog. Susan commented where I transcribed
"wonderful dinner with T.S. Eliot (who is an editor at Ted's publishing house), his charming Yorkshire wife and Mr and Mrs Steven Spenser at the Eliots' home here"
that the couple in question should in fact be Mr and Mrs Steven Spender, (Steven being the noted poet!) and advised me to look a picture confirming this in the Wagner Martin biography, "Three Generation of Faber Poets" (June 1960). You were spot on, Susan! Thanks so much for your keen eye! I had a quick look online and found a picture taken from that 'wonderful dinner' Plath spoke about!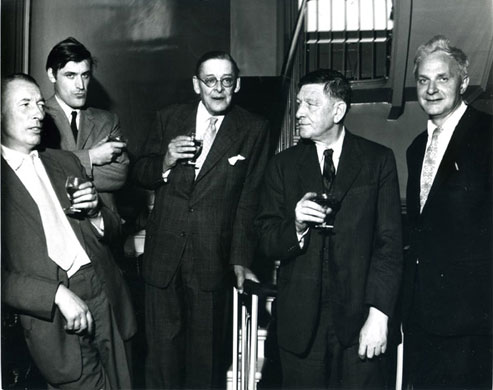 I also found a great
article from The Guardian
which talks about that dinner, and the shift in poetry throughout the generations. The quote I like most from the article: "Present were Mr and Mrs TS Eliot, Mr and Mrs Stephen Spender, Mr and Mrs Ted Hughes. The least luminous in that company, Mrs Hughes, would - eventually - outshine them all".
Well I shall check back in soon after the hubbub of New Year. I am going out with a few friends to a masquerade ball, which is exciting! Wishing you all a good end to 2010 and a great 2011!