The past few weeks have been so hectic, this has honestly been the first evening I've had time to sit down and blog. I got back from my research trip to the Plath archives over two weeks ago. Back to the rain and wind of Ireland! The whole trip was absolutely fantastic though. I saw so many fascinating items at the archive and met so many wonderful people - it really was the trip of a lifetime! Because there are just so many things to report back to you all, I am going to blog thematically. So, expect the next few entries to detail specific points from my trip: the archives themselves, Sylvia Plath's accommodations (her College halls of residence and the home she shared with Ted Hughes when she taught at Smith), buildings of note, scenery of note and some Boston/New York Plath points of interest.
This blog post will discuss Northampton (the town Smith is situated in) as a whole. I think it's important that I relay a sense of the town, as it was somewhere that Sylvia Plath lived in and loved for many years of her life. Plath attended Smith College as a student from 1950-55 and returned there with Ted Hughes to teach from 1957-58. Smith itself is situated on the top of a small hill and is about five minutes walking-distance from the centre of town.
Northampton is simply beautiful. It is approximately a five-hour drive from New York City and to be honest, the only place I can really compare it to is the fictional Stars Hollow from the television show
Gilmore Girls
. Downton Northampton or "Noho" as everyone calls it is full of interesting characters, beautiful boutiques, bustling restaurants, leafy trees and cute music shops and cinemas. I was completely taken with the liberal attitudes of the town and the air of intelligence the whole place had. Everyone seems to carry textbooks and talk about interesting issues. For me, it honestly felt like a safe literary idyll.
Knowing the Sylvia Plath spent so many years in Northampton made it all the more special for me. So many of the bookshops, diners and the main mall in town were still in business from the days when Plath would have lived there, I spent a lot of time wondering where she bought her schoolbooks and did her shopping. I was reliably told that the main "date cafe" in the 1950s was
Joe's
- and it still retains the same decor as it had back in Sylvia Plath's time! These little connections gave the town a really special place in my heart. As I spent the majority of my time in Northampton alone, it was wonderful to have these daydreams of days gone by to think on.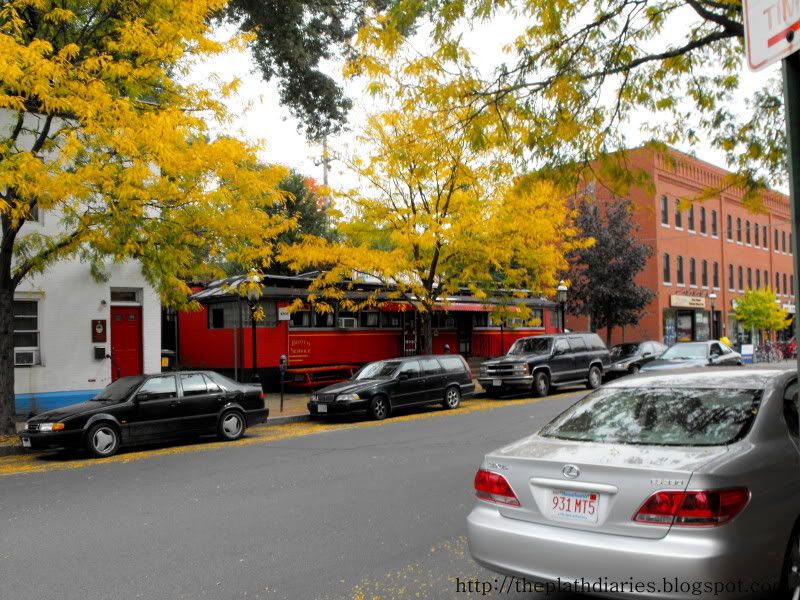 The photographs I've included here represent the general "vibe" of the town, I think. Northampton is full of culture, be it jazz bands playing in cafes at lunchtime, bookshops overflowing with books or quirky eateries. The focus in the town seemed to be one of learning - be it about music, food or books. Conversation is encouraged, people are interested in one another.
We all know that Sylvia Plath was a determined student and that she had great academic success. The time I spent in Northampton convinced me that the wonderful town that surrounds Smith must have inspired and enouraged Plath in her studies. It really is a picturesque place!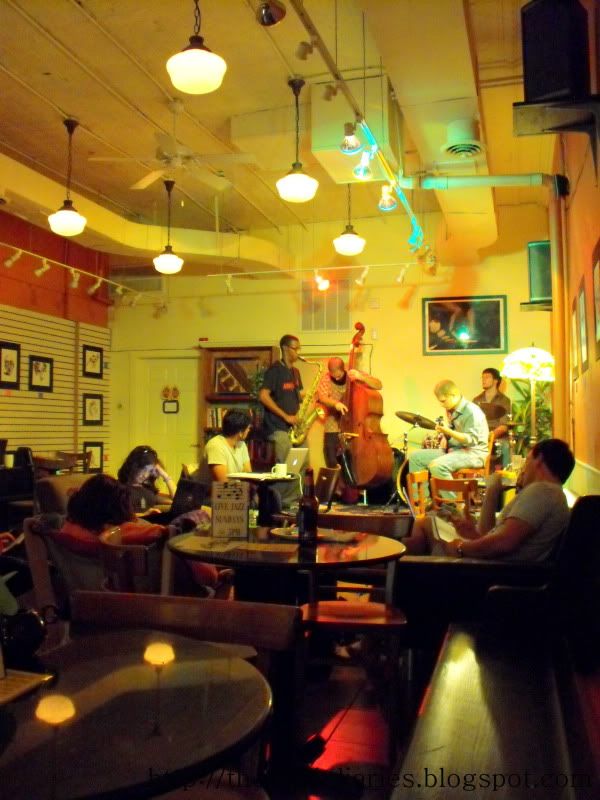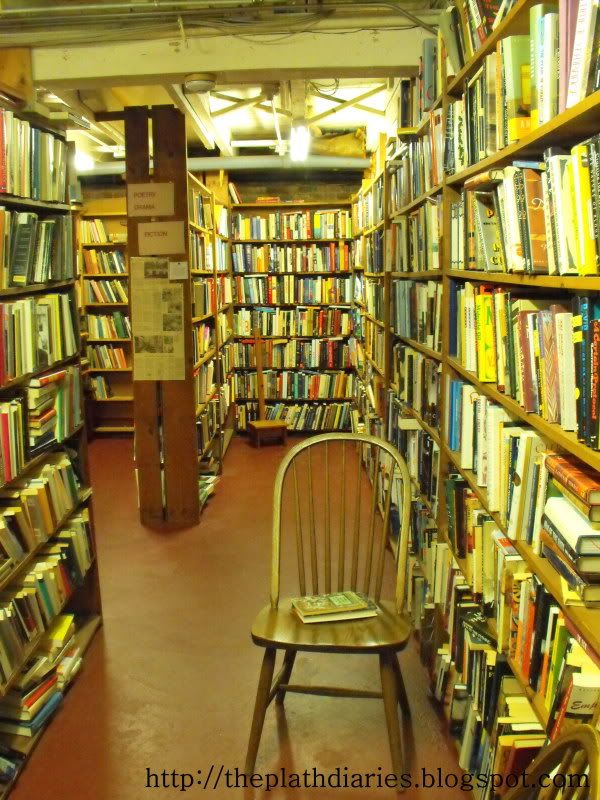 So now that I've set the scene a little about the general environment of Northampton, I feel it appropriate my next blog post about be about the College itself. I hope to publish that post in the next few days but for now, here's a photograph of me, sitting on the steps outside the front gates of Smith!