Happy New Year to all! My resolutions are wide and varied, from daydreams of losing weight and giving up the occasional cigarette to the more academic wishes. The main hope I have in regards to work is that I'll be able to change my researching hours. Somewhat of a night-owl, I sit up late working and rise close to the afternoon! Although this is the way I've always worked, I would like to become more of a "daytime" person and hope that my upcoming move to Belfast city and its libraries will provide me with the kick I need!
2012 is the beginning of a special year for Plath studies - it will mark the 50th year anniversary of what was an excitingly creative time for Plath, who wrote many of her finest works in this period. As we are at the beginning of a New Year, I thought it might be nice to write out 'New Year on Dartmoor' which S.P. wrote around this time in 1962. I think my favourite part of this poem is in the penultimate line, "You are too new" - the lovely rhyming 'ooo' sound is just beautiful.
This is newness: every little tawdry
Obstacle glass-wrapped and peculiar,
Glinting and clinking in a saint's falsetto. Only you
Don't know what to make of the sudden slippiness,
The blind, white, awful, inaccessible slant.
There's no getting up it by the words you know.
No getting up by elephant or wheel or shoe.
We have only come to look. You are too new
To want the world in a glass hat.
Another important resolution I will try to keep is to endeavour to update this blog at least fortnightly. I have a habit of composing long ramblings when I feel frustrated and in the mood to complain about graduate life, but never end up pressing "publish post" - though I feel this may be a blessing in disguise for readers! In any case, more updating is the aim and with that, I will continue my reminiscence of time spent at Smith and more importantly, Sylvia Plath's time there!!
The photos in this blog entry begin to document the various places that Plath lived while studying and teaching at Smith College.
Please do not replicate any photographs without permission!
The following pictures are of Haven House, where Plath lived as a undergraduate from 1950-52. Although she complained about feeling lonely and the "public corridor, no private exits" (283,
Journals
) of Haven, Plath's feelings in my opinion mirror that of a young woman trying to settle into University - encountering all the different emotions that come with such a tumultous time.
A much more positive entry Plath makes about her time in Haven House describes her first snow at Smith. As someone who just missed the late October blizzards in the USA (the first flecks of snow started falling as I taxi-ed down the runway at JFK), the description of the first snow really takes me to that time and place with Plath.

"This is my first snow at Smith. It is like any other snow, but from a different window, and there lies the singular charm of it. Downstairs someone just exclaimed "Oh, look at it!" But I have been looking for quite some time now, ever since the first scatter-brained flakes began to circle down in aimless little swoops and spins... The flakes are big and loosely put together, and the red and blue rooftops are muted and secretive. Girls bicycle by in brief spurts of colour and motion, and the bare trees are that smoky-lavender, gray and withdrawn".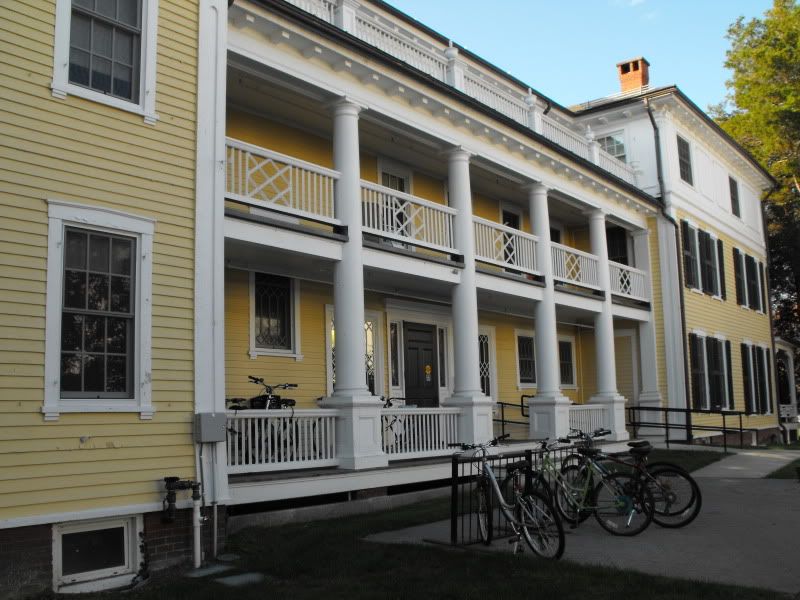 Sylvia Plath's room was apparently on the third floor to the far right of this picture. True to the snowy quote, you can see bicycles belonging to the Smith girls littered around the side entrance to Haven House. The front entrance (next photo down), faces onto Elm Street and has a lovely verandah where I imagined young Yale men would wait to pick up their prospective dates on a Friday night!
The final photograph in this sequence is from the back of Haven House. The beautiful Paradise Pond is just beyond the grassy hill in the foreground. In a letter Plath wrote a letter of grateful thanks to her Smith benefactor Olive Higgins-Prouty, she made special reference to the view of Paradise Pond from Haven. My photograph is taken from ground-level, but I am sure the third floor offers a wonderful view!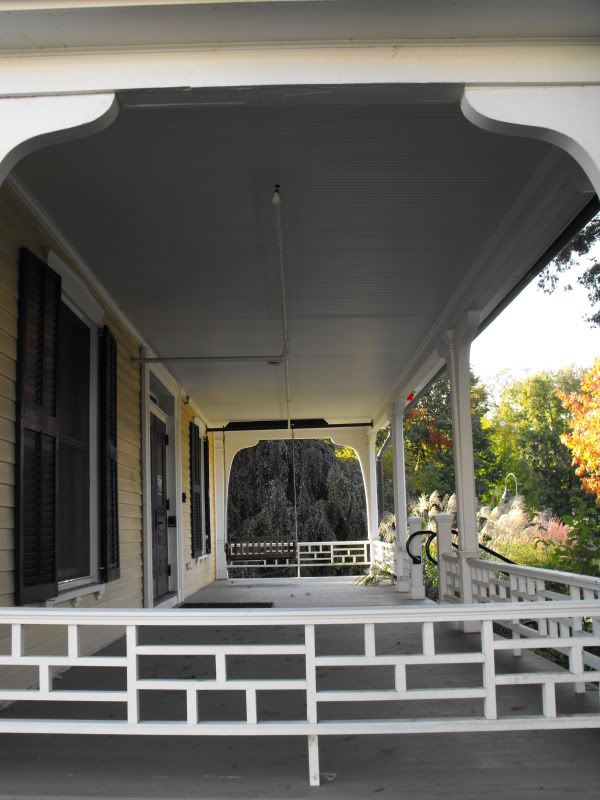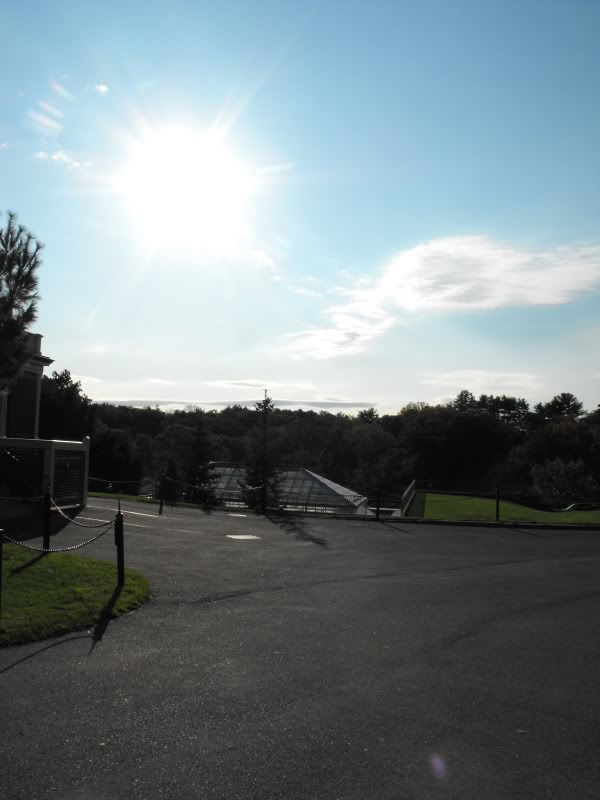 It really was fascinating to get an up-close view of Haven House, and indeed all of Plath's Smith College residences. As someone used to houses built with cement, bricks and stones, it was also fascinating for me to see so many homes made out of wooden frames. This seems to be quite the norm in the United States - here in Ireland homes are never made out of wood!
My next post will share images of Lawerence House where Plath lived until 1955.
In adherence to my New Year resolutions - expect that post somewhere in the next fourteen days!!