I debated with myself whether I should write this blog post, because this entry will probably reveal me to be an overly emotional or sensitive person. But when I think about other friends who are doing Ph.D.'s, they too are all passionately involved with their subjects. So perhaps that should be a disclaimer to this entry, because what I am going to write is an example of how the facts of Sylvia Plath's life profoundly impacted and upset me.
When you read or study poetry, it is beneficial to have an understanding of the author in order to gain insight into their thought process. As I've written many times, with Plath, it is the prioritisation of her biography and lack of attention given to other aspects of her work that I believe is often problematic. However, I do feel that knowing Plath's life story, the writers she was influenced by, the sights she saw, the era she lived in, etc - these all give us a greater understanding of the artistic motivations of her work. Throughout my Ph.D. journey, I have been privileged to have visited many places that Plath lived. I've read essays she wrote at Smith and Cambridge, seen her artwork and collages, letters, drafts of the poetry and prose, handled petals that she left between the pages of books, etc. All of these experiences have given me a really full picture of Plath - as an intelligent, vivacious, intense, interesting person - someone I admire and respect greatly.
Having spent two and a half years working on this Plath Ph.D., I can say without hesitation I've thought about Plath every single day. When I go swimming, I'm thinking about her poetry; when I'm out with friends, I drop in a mention of Plath; in the library, at conferences, at concerts, in a coffee shop - Plath and her work are always in my thoughts. This of course is not to mention the fact that I'd been a Plath fan since around the age of fifteen!
And so, when I was accepted to present a paper on Plath at the
58th BAAS Annual Conference
at the University of Exeter I was not only excited to share my academic findings with fellow researchers, I also began to plan a trip to visit Court Green - a mere hour away from Exeter city. The BAAS Conference was really great, with lots of interesting talks and panels. I enjoyed Exeter very much and was in a buoyant mood boarding the bus to North Tawton on the Saturday evening.
My plan was to stay in the village from Saturday to Tuesday. I had my laptop with me and was going to sample some Devon cider, write my thesis and enjoy the surroundings of the area that Plath became the poet she was born to be. Having read the
Letters of Ted Hughes
and purchased some of Hughes's poetry (
Moortown Diary
, and a
Selected Works
collection), I was really looking forward to seeing the house and the landscapes that influenced Plath and Hughes so greatly.
There is a big "however" here. When I got to North Tawton, I began to feel kind of dizzy. The bus let me off in the main square and I was excited, interested and overwhelmed knowing that this was Plath's famous village - that Rose and Percy Key lived in, for example! I saw the Town Hall featured in "Mothers" - imaged the hot sausages being served in cold December. I imaged Plath walking over to the Post Office to mail her letters to The New Yorker, her mother, her brother. A cold feeling swept over me though, an uneasiness. I am from quite a rural background myself - the nearest shop to my family home is approximately eight miles away. I'm no stranger to being in the middle of nowhere, but there was something uneasy and foreboding about North Tawton that I couldn't quite detect.
I checked in at my accommodation, noticing bizarrely, a dead crow lying on the road. Again, I'm not usually the kind of person who buys into "signals" or whatever, but I was a little spooked. There was just something off about the place, I couldn't quite put my finger on it. I walked back up through the town and veered off to the right, walking up a small road and there, on my left, was Court Green. Honestly, I don't know what I imagined. Certainly I had dreamed up the idea that Court Green was going to be an idyll, that I would feel supremely connected to it, in the way I had felt walking around Child's Park in Northampton, or looking through the many Plath archives I've been so lucky to have viewed.
Court Green isn't romantic. It isn't a rural idyll. The house is huge, cold, damp looking and frankly, it frightened me. The front of the house faces North Tawton church, and just like the poem describes, "Separated from my house by a row of headstones." I stood at the church, leaning against its walls, staring over at Court Green where I could see the window of what was Plath's study. The house looked
exactly
the same as it did in all the photos of Plath I've seen.
Maybe it's because I'm close in age to Plath when she lived there, but I just felt so helplessly awful for her. It was actually difficult to breathe standing there, looking at the big empty house. She must have been so absolutely terrified there, living on her own in late 1962. I realised how I had romanticised her writing of the
Ariel
poems, thinking her defiant statements about getting up at 5am and writing once the sleeping pill wore off were simply strong and brave. When actually, standing there, looking at the house and thinking of Plath living there with two tiny babies in a big creaking house must have been absolutely awful for her.
I left North Tawton the same evening I arrived. The night air had become cold, the town was strange - for example, there was a random man talking to himself, drinking alcohol from a brown paper bag and eating a cod supper close to the bus stop. Plath's yew tree had not yet bloomed because spring has not kicked in. I felt that summed up my whole experience - the impotence of the place, the stupidity of my romanticism. Failed dreams. For Plath, a person whose consistent need to better herself and to achieve and to publish - I cannot imagine how it must have felt to have been so isolated from culture, books, conversation.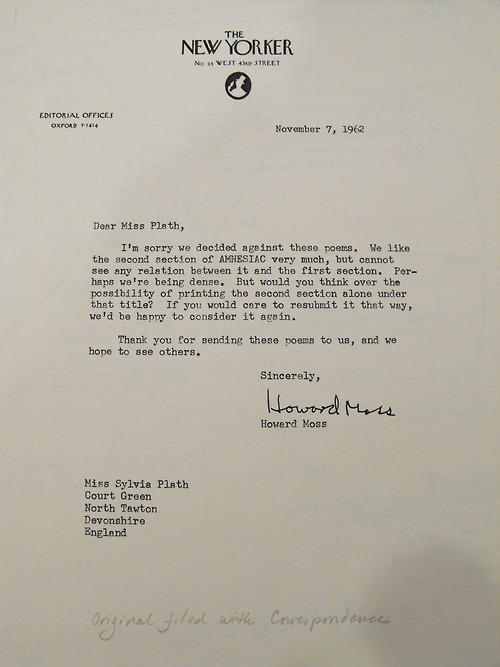 Picture copyright to Smith College.
With hindsight it's easy for us to idealise Plath's life. Think of all the beautiful scenery she lived among! What inspiration! People forget that actually, many publishers rejected the
Ariel
poems when she first sent them out. At some point, you would begin to question whether you really were a good writer or not. As I stood there, looking at Court Green I thought of how absolutely beautiful, opulent and intellectual Boston and Smith College are. Cambridge University, teaching at Smith, life in London even... to desolate empty countryside. As someone of a similar age to Plath, I just know that I could not have coped. I couldn't bring myself to stay in North Tawton a moment longer and as I'm being transparent here, I cannot deny that I shed a few tears on the bus back to Exeter.
I don't mean for this blog entry to bring up old wounds about "who left who" and I am sorry that I am letting my personal feelings about who I think Plath was interfere with a blog that is primarily supposed to be academic. This post is in no way directed at Ted Hughes or his actions. Except that I think the whole idea of moving to Court Green was hugely immature and idealistic. But I feel a kindred spirit in Plath. I cannot even begin to imagine how horrific it would be to have been living out there in the middle of nowhere, alone. I actually cannot wrap my head around it. And when you read recent interviews that include catty remarks by Olwyn Hughes and Dido Merwin's awful Memoir in
Bitter Fame
, I actually cannot believe these commentators are for real. You need only look at Court Green to get a serious indicator of the actuality of Plath's situation.
When I was a teenager, first reading Plath, I always thought that 30 was so old. A juvenile way to lessen the facts of her life and my need to romanticise the mythic way in which her last works came about. Now I'm 28 and still have no idea who I am, what I want from life... It makes it all the more apparent just how young Plath was when she died and how stupid it is to mythologise her work. In fact, I was so profoundly revulsed by seeing Court Green, I have spent a large portion of the past few days questioning the validity of literature at all. The reality of her promising life and the tragedy of her death is not vindicated by her poetry. As I'm being frank here, I was so impacted by the trip that I managed to get a cheap flight back to Ireland because I was just so deeply upset. I have had a hard time looking at
Ariel
since Saturday because I feel like I've been such a stupid fool in approaching it as some kind of sacred writ.
Four days have passed since I visited Court Green. You will note I have not shared any photographs of the house. That's because I couldn't bring myself to take any. However, last night I did re-read
Ariel
very slowly and carefully and it is still wonderful to me. The words are still gripping and fantastic and scary and the work of a genius. If anything, the experience of seeing Court Green has made Sylvia Plath more real to me, as a human being rather than some kind of fearless icon. Life is hard and is sometimes absolutely and unbearably awful. Plath's writings in late 1962 and 1963 at the very least show she still strove to create, that she still had something to say for herself, despite the difficulties life brings. And I admire Plath so much for that. I admire her poetry so greatly and while personally I just wish I could reach out and warmly hug her, it is the conviction of her character and beautiful capacity for expression that "hugs" and informs me, every day.